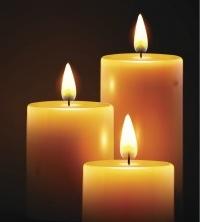 Obituary of James Sythoff
JAMES HOWARD FRANCIS SYTHOFF DIED APRIL 28, 2017 IN BAYSIDE, NEW YORK. HE WAS BORN OCTOBER 21, 1921 IN NEW YORK CITY TO J. LESTER AND ETHEL W. SYTHOFF (NEE FRANCIS). HE ENLISTED IN THE US COAST GUARD IN 1942 AND WAS STATIONED IN THE PACIFIC FOR 3 1/1 YEARS. IN 1943 HE RETURNED HOME TO MARRY HIS CHILDHOOD SWEETHEART, MARIE BUTTNER OF BROOKLYN. HE RETURNED TO THE PACIFIC UNTIL HE WAS HONORABLY DISCHARGED IN DECEMBER 1945. JAMES WORKED FOR PAN AMERICAN AIRLINES FOR MANY YEARS AND AFTER HE RETIRED HE RETURNED TO SCHOOL TO GET A MASTERS DEGREE IN ECONOMICS AND TAUGHT FOR AWHILE AT ST. JOHN'S UNIVERSITY IN JAMAICA, NEW YORK.
HE AND MARIE LIVED IN KEW GARDENS FOR MANY YEARS UNTIL HER DEATH IN 2000. JAMES WAS A MEMBER OF THE SONS OF THE AMERICAN REVOLUTION AND THE KNIGHTS OF COLUMBUS.
HE WAS VERY SOCIALABLE AND HAD MANY FRIENDS. HE WAS A GENTLEMAN IN THE TRUEST SENSE OF THAT WORD. HE LOVED MUSIC, SINGING, MOVIES AND GOING TO THE KING COLE BAR AT THE WALDOLF ASTORIA IN NEW YORK CITY AND THEN GOING TO A PLAY OR CONCERT.. HE ALWAYS HAD A SMILE FOR EVERYONE HE MET.
HE WILL BE GREATLY MISSED BY ALL HIS FRIENDS, HIS NIECE CAROLE SYTHOFF RUSSO AND HER HUSBAND GERALD, HIS GREAT NEPHEW DANIEL, HIS GREAT NIECES SARAH, SUZANNE AND ALASANDRA AND THEIR HUSBANDS-SEAN SIME, PHILIP MATARAS AND MATTHEW MARTINO AND ALSO BY HIS GREAT GREAT NIECE GENEVIEVE AND GREAT GREAT NEPHEW HENRY, AND ESPECIALLY BY HIS DEVOTED FRIEND MRS. ROSENTHAL.
THE WAKE WILL BE HELD MONDAY, MAY 1ST AT THE GLASCOTT FUNERAL HOME, 102-03 METROPOLITAN AVENUE, FOREST HILLS, NEWYORK FROM 11AM TO 1PM. INTERNMENT TO FOLLOW AT THE MAPLE GROVE CEMETERY, IN KEW GARDENS.
IN LIEU OF FLOWERS PLEASE CONSIDER DONATING TO OZANAM HALL NURSING HOME IN BAYSIDE , NEW YORK. THE SISTERS AND THE ENTIRE STAFF AT OZANAM GAVE MY UNCLE JIM THE BEST CARE AND KIND CONSIDERATION FOR 4 YEARS. THANK YOU VERY MUCH.